Trekking in Chaltén & Lago del Desierto

by Miguel Alonso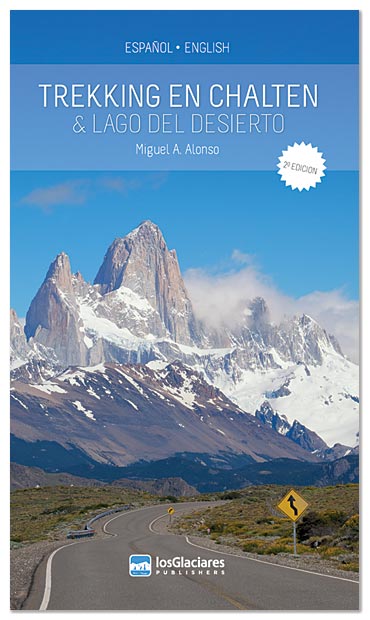 Publisher: Los Glaciares
ISBN: 9789872101220
Second Edition
It includes maps and color photographs
Languages: Spanish / English
Dimensions: 4.7 x 7,9 " (12 x 20 cm)
Pages: 220

Price: AR$ 440,00

See Points of sale

This book presents El Chaltén and its many attractions for trekking lovers. With a clear and friendly style, The author describes walking trails that run through unique landscapes where visitors can discover a succession of forests, lakes glaciers and granite peaks of majestic beauty.

Handy designed for travelers, this edition offers the reader further updated information, photos and travel experiences using the Web and the social networks.


Check it out
Scroll to see same pages of the book
Expand and update contents
Scan the QR code with your mobile device or the camera of your computer to access to expanded and updated online information on each topic.

For example, you will see more images and maps of the trails, knowing the current weather, access thematic galleries of photos, connect with other travelers using social networks or even share your experience in El Chaltén.
About the author
Miguel Angel Alonso was born in Santander, Spain and lived in the town of El Calafate for 30 years. With numerous expeditions in the Patagonian Continental Ice Fields, he reflects his experience as a mountain guide at the Los Glaciares National Park, and his wealth of knowledge as a tireless explorer of Southern Patagonia.
Points of sale
Ciudad Autónoma de Buenos Aires
Argentina
Camping Center
945, Esmeralda Str.
Phone: ++54 11 4314 0305
El Calafate
Province of Santa Cruz
Argentina
La Boutique del Libro
1033, Del Libertador Ave.
Phone: ++54 2902 491363
El Chaltén
Province of Santa Cruz
Argentina
El Mundo de Sofi
342, San Martín 342 Ave. (Local #1 and #2)
Phone: ++54 2962 493141

El Súper
Lago del Desierto Ave.
and M. M. de Güemes Av.
Phone: ++54 2962 493039

MarcoPolo
120, M. M. de Güemes 120 Ave. (Local #5)
Phone: ++54 2962 493122

Viento Oeste
898, San Martín Ave.
Phone: ++54 2962 493200