Welcome
Puesto Cagliero. Perched high in front of Cagliero Glacier, this mountain refuge offers true comfort to those who enjoy a good trekk or a glass of wine in the cosiness of the lobby while looking at the wondrous views.

We offer a personalized service, delicious regional meals and fully equipped rooms to make your stay unforgettable.
In the area, we also have the Piedra del Fraile refuge located in the Río Eléctrico valley.
Summary
Located within the Estancia Los Huemules.
Exclusive view of the Cagliero glacier and Diablo lagoon.
Six rooms for 4 people.
Full board.
Private bathrooms with hot shower.
Starting point for self-guided and guided walks.
Our mountain refuge
Accommodations
The Refuge has 6 quadruple rooms with a bunk bed, private bathroom with hot showers and a view of the glacier.
Full board
Welcome you, lunch, breakfast and dinner with water. Sale of drinks at the refuge: soft drinks, beer and wines.
Self guided trails
From the refuge there are trails that can be done without a guide to Laguna Azul, Laguna Verde and Loma del Diablo.
Guided trek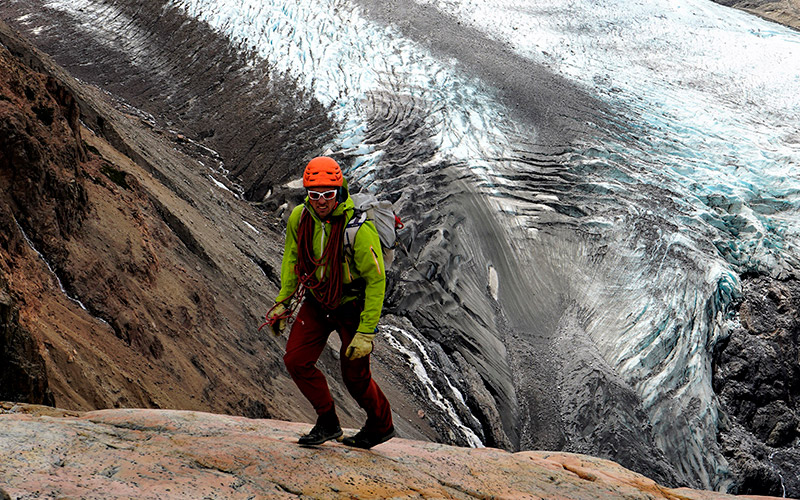 Full day hike up to the top of the Cerro 30 Aniversario, with views 360º views to the southern ice field and the Fitz Roy massif. See full details.
Rates season 2021-22
USD 144 per person
Opening: October 29, 2021.
The rate includes
Lodging with full board.
Entrance to Estancia Los Huemules.
Free information and parking at Estancia Los Huemules.
Solar electricity for cell phones and cameras.
Does not include
Alcoholic / Soft drinks.
Transfer from El Chaltén to Estancia Los Huemules.
WiFi in the refuge.
Guided trek to the Cerro 30 Aniversario.
Contact
Send us your query or reservation request, we will respond as soon as possible!
Access
Main trail from the Interpretation Center of Los Huemules, on Route 15, 2 hours approx.
Río Eléctrico zip line (only for clients) coming from Refugio Piedra del Fraile, 4 hours approx.
Keep in mind
Access to Estancia Los Huemules is open from 9 a.m. to 6 p.m..
In the Refugio area, there is no internet access or cell phone signal.
Location
The refuge is located on the edge of Laguna Diablo, within Estancia Los Huemules, about 17 km north of El Chaltén, Province of Santa Cruz, Patagonia Argentina.
Distance from Comandante Armando Tola International Airport (El Calafate) to Estancia Los Huemules: 215 Km (2.5 hours by car or bus).
How to get to the area
From El Chaltén to Estancia Los Huemules: 11 miles trough Río De las Vueltas Valley, hiring a taxi. Once in Estancia Los Huemules, walk the trail in the direction of the Laguna Diablo for about two hours.
Useful information
Argentina, the country
Official language: Spanish.
National currency: Argentine Peso.
Passport: minimum validity of 6 months.
Visas for tourism: authorized period of stay of is up to 90 days.
Vaccination for foreigners: Yellow Fever Vaccine is mandatory only in case of visiting forested areas of the north and northeast of Argentina, the borders with Brazil and Paraguay at altitudes below 2300 masl, including Iguazu Falls.
It is advisable to take out travel insurance to cover medical expenses abroad, including medical transfer.
Electric network: 220V / 50Hz.
El Chaltén
National Direct Dialing Code: 02962.
International Direct Dialing Code: 0054 2962.
How to get there: land route from El Calafate to 215 Km.
Nearest airport: El Calafate at 200 Km.
Climate in the austral summer: dry, windy and very variable.
Minimum average temperature: 33ºF (-1ºC) on winter.
Maximum average temperature: 59ºF (+15ºC) on summer.
Available services in El Chaltén
ATM: Red Link, Banco Santa Cruz.
Postal Mail: Correo Argentino.
Mobile telephony network: 2G, Movistar only.
Fuel: gasoline and diesel.
Services NOT available
Bank.
Money Exchange agencies.